Mobile Revenue Growth is unlocked with SMS Commerce
A case study with a Fortune 500 cosmetic company and Textual,
using a dedicated text to buy channel.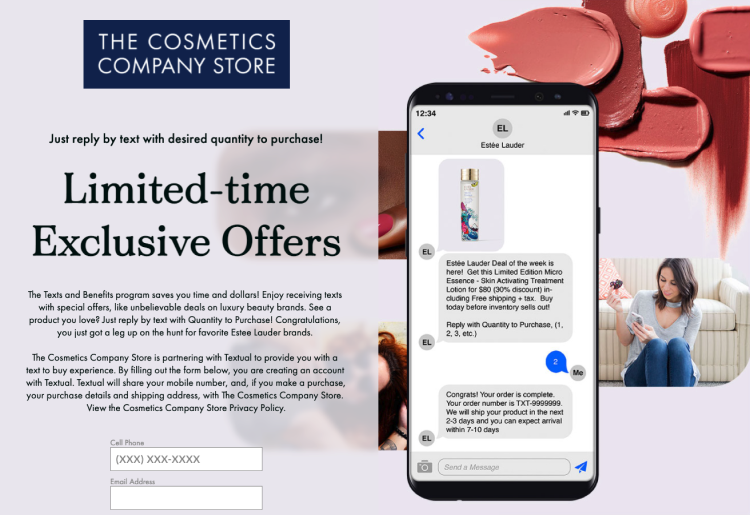 $2,980,000
New Direct Revenue in 2022
Program Cost as a Percentage of Revenue
Fortune 500 Cosmetics
Text to Buy Program Highlights
Significant incremental revenue, best in class ROI, and high conversion rates
using text to buy as an independent marketing channel.
Text to Buy channel creates new DTC revenue for The Cosmetic Company.
Social media, in store promotions, and QR codes generate SMS Subscribers.
The Cosmetic Co generated over $1 million in new revenue in 10 months using Textual's Text to Buy platform without spending any advertising dollars to promote it.
Text to Buy channel produced a 98x ROI
The Operations
Gain subscribers, send product offers, purchase and fulfillment.
1. Subscribe & Register
The Cosmetic Co used Social media influencers, in store QR Codes, and Email marketing to promote the Texts & Benefits program.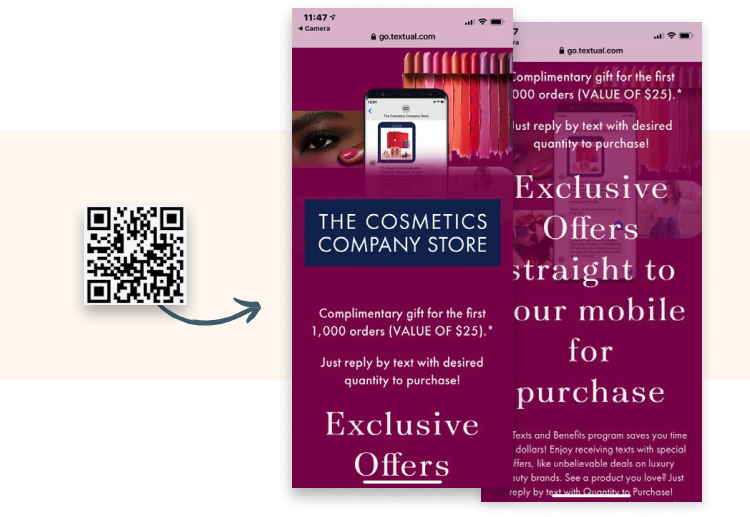 2. ELC Sends Product Campaigns
The Cosmetic Co manages their own Product Offer campaigns using the Textual marketing platform. Product offers are sent 2x to 3x per week.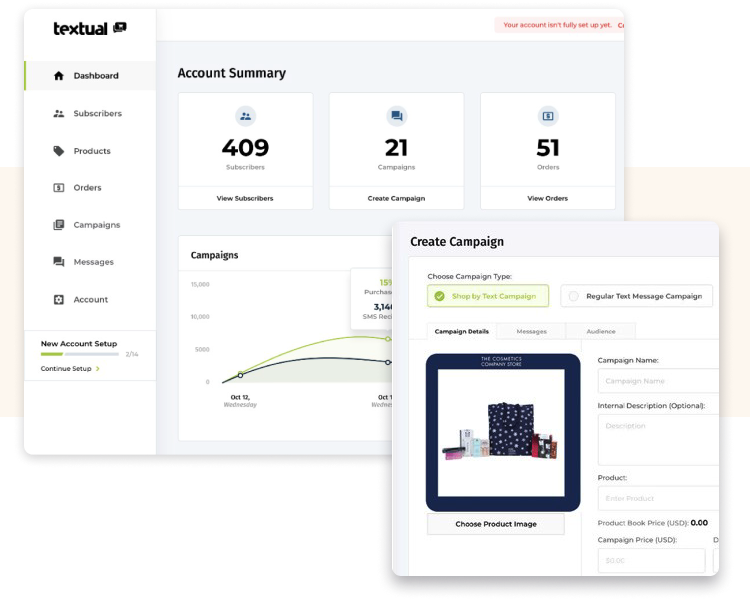 3. Subscribers Reply YES to Purchase
Subscribers reply Yes or Quantity to Purchase. Orders are automatically synced with your order management system. All Fulfillment data and Order statuses are seamlessly shared between Textual and Client' order and fulfillment systems.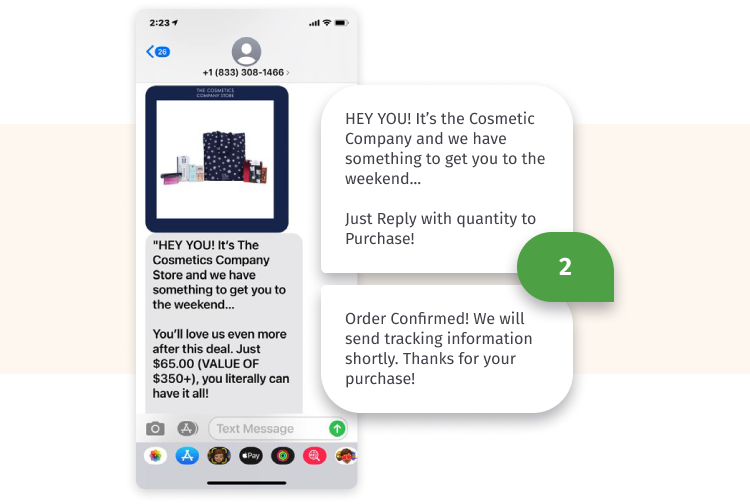 Text to Buy Offer Showcase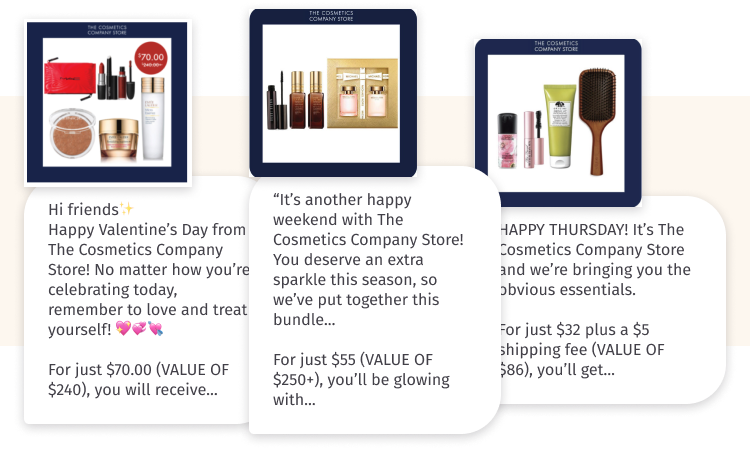 About Textual
Textual provides a complete SMS Commerce platform that specializes in capturing product sales in the message, aka Text to Buy.
Rapid plug and play access to selling products by text message,
Building a subscriber base and managing products
Order Management within a proprietary system that integrated with Shopify and other ecommerce backends.
The Textual mission is to be the top performing marketing channel by ROI, while creating a new revenue stream, and providing an innovative customer shopping experience that is frictionless and shareable in a mobile world.
Best Use Cases
Overstock Inventory / Surplus Sales Channel
Daily Deals
Product Reordering - Flexible Subscription Model
Merchandise Channel
The Challenge:
Scale DTC revenue in a mobile world while competing against emerging brands in a crowded digital marketplace.
With the rise of DTC brands that are competing for Customers on Social Media, Google and Amazon, the paid advertising marketplaces are becoming increasingly competitive and cost prohibitive. It requires expertise in DTC to succeed in the constantly shifting landscape of trends, behaviors and consumer preferences.
The marketing team at the Cosmetic Company rose to the challenge and succeeded in developing a DTC mobile commerce channel worthy of accolades.
In some cases, Brick and mortar stores are challenged by evolving cultural behaviors.
These conditions present a challenge for wholesale oriented retailers who must find ways to go DTC without creating an entirely repurposed company, or investing heavily in technology, people and processes to close the gap.
Text to Buy offers innovation and differentiation in crowded marketplaces.
Goals of the Text to Buy Program
Generate new revenue with an engaging and innovative Customer Experience with viral growth potential.
Sell overstock inventory
A lightweight, easy to maintain, revenue platform that can plugs and plays nicely with other software stacks, and allows mobile flexibility
The Solution:
Create a Text to Buy channel using in store promotions, social media, email and QR codes on product packaging.
World renowned cosmetic juggernaut, the Fortune 500 co, partnered with Textual to create an innovate revenue channel using Text to Buy.
Working together to devise a program to sell overstock inventory via text message, the companies created new revenue, and the Cosmetic co. saw an ROI of 98x on the program.
The proprietary text message purchase funnel provides conversion rates that are unrivaled in the digital marketing world. The cosmetic company sends product offers as MMS Campaigns to the Subscribers up to 3 times per week.
The Subscribers are able to purchase the products instantly by replying "Yes", or with a quantity to order "1, 2, 3". If the Subscribers do not have an active Payment profile, the Textual system recognizes their status and gives an opportunity to create a payment profile in real time.
Take the relationship to the
next

level.
New, Incremental DTC Revenue
Sell more Inventory
Improve Customer Loyalty and retention
Increase Product Reordering Rates