Selling inventory online has become a go-to option for companies looking to expand their reach and grow their customer base. Online sales channels allow companies to reach customers from all over the world, whereas traditional brick-and-mortar stores only serve customers within a limited geographic area. With the rise of e-commerce and the convenience it offers consumers, it has become essential for businesses to have an online presence to remain competitive.
Online sales provide companies with a wider audience and the ability to sell their products 24/7, without the limitations of physical store hours. In addition, selling inventory online can help companies streamline their operations, reduce costs as selling online often involves lower overhead costs compared to operating physical stores, and increase efficiency. By having an online store, companies can also gather valuable data and insights about their customers, which can help them make informed decisions about future business strategies.
Selling online isn't just for retail companies either. Wholesale businesses can sell their products in bulk to other businesses through an e-commerce platform, allowing them to reach a global market and streamline their sales process. Manufacturers can sell their products directly to consumers, bypassing the need for intermediaries and reducing costs and distributors can sell their products directly to consumers, as well as to businesses, increasing their reach and sales potential. Even service companies, such as repair and maintenance businesses, can sell their services online, making it easier for customers to purchase and schedule appointments.
Here are some tips to get you selling more inventory online!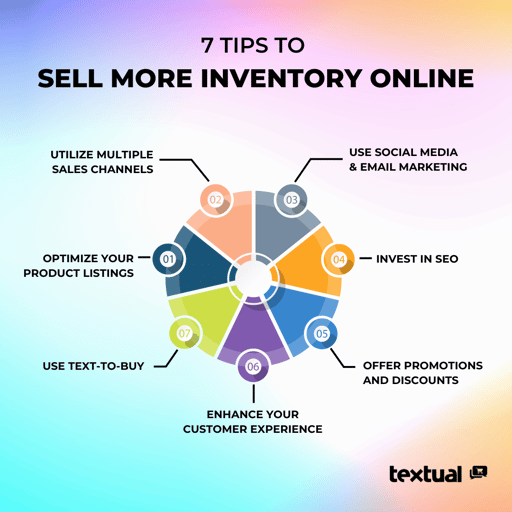 Optimize your product listings: Make sure your product descriptions are accurate, detailed, and contain high-quality images.
Utilize multiple sales channels: Consider selling on multiple online marketplaces and your own website.
Use social media: Promote your products on social media platforms, such as Facebook, Instagram, and Twitter.
Utilize email marketing: Send targeted emails to your mailing list, highlighting new products and promotions.
Invest in search engine optimization (SEO): Make sure your website appears at the top of search engine results when people search for the products you sell.
Offer promotions and discounts: Running sales and promotions can help drive sales and clear out inventory.
Enhance your customer experience: Offer excellent customer service, provide fast shipping, and make the checkout process easy and seamless.
Use data to drive decisions: Analyze sales data to determine which products are selling well and which are not, and adjust your strategy accordingly.
Text-to-buy is another great way to sell more inventory! By allowing customers to purchase through text, you make the process quick, easy and convenient for them, potentially increasing sales. Here are some ways you can use text-to-buy to sell more inventory: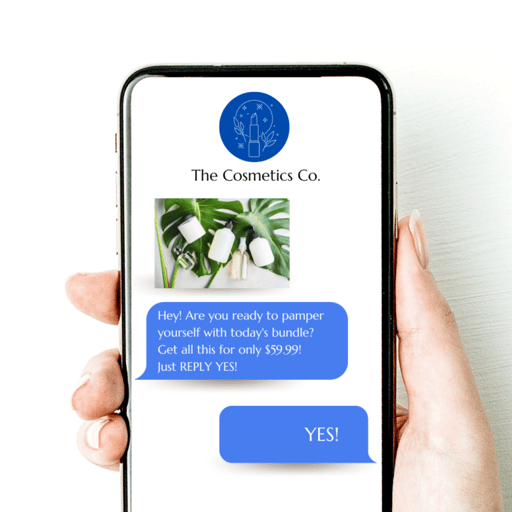 Offer exclusive discounts: Offer exclusive discounts to customers who use text-to-buy to purchase products, incentivizing them to use this method over others.
Create a sense of urgency: Send text messages with limited-time offers, creating a sense of urgency that can drive sales.
Personalize your messaging: Use text-to-buy to send personalized messages to customers, such as reminders about items left in their shopping cart, or recommended products based on their past purchases.
Build your subscribers: Build a database of customers who have opted-in to receive text-to-buy offers, allowing you to target them with relevant promotions and deals.
Integrate with other marketing channels: Use text-to-buy as part of a larger marketing strategy that includes email, social media, and other channels.
Measure success and adjust: Regularly measure the success of your text-to-buy campaigns, and adjust your strategy accordingly to maximize results.
By using text-to-buy effectively, you can reach customers where they are most active (on their phones), and create a convenient, personalized shopping experience that can drive sales and sell more inventory.