The preferred device for online shopping is the desktop interface. Yet times are changing and despite our own perceptions, m-Commerce is reaching a more significant share of Total Digital Commerce Dollars.
The mobile share of digital commerce was 24% in Q4 of 2017, and growth of m-Commerce was 40% compared to 15% for regular e-Commerce. This data clearly shows that mobile commerce is on a sharp rise.
However, the mobile commerce gap is still substantial. There is a 40% differential on mobile dollars spent versus mobiles share of media time spent. In other words, while mobile sites (and apps) are getting a huge amount of visitor's time, the visitors are not spending their money on those mobile sites at nearly the same rate as desktop sites.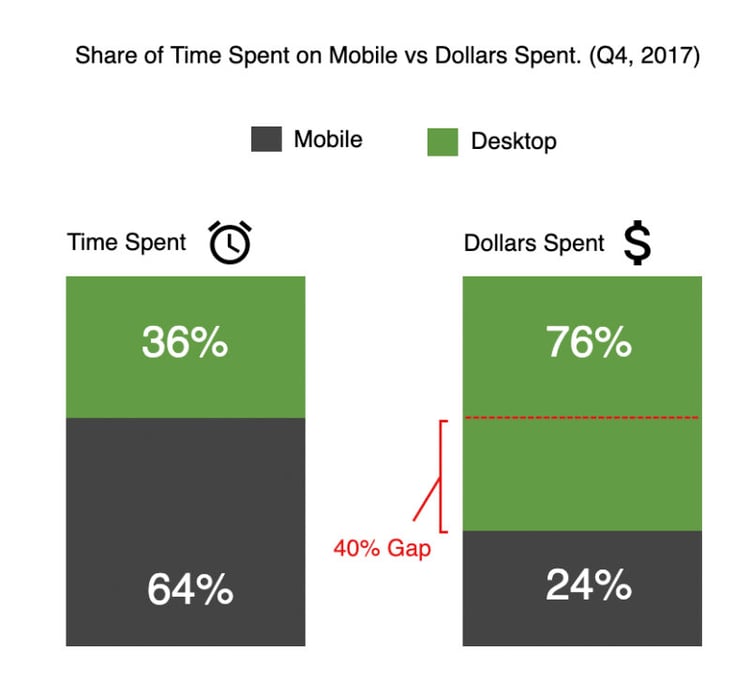 This graph illustrates the 40% mobile commerce gap.
Data Source: ComScore Media Metric Multi-Platform and e-Commerce / m/Commerce Measurement.
How do online merchants enable sales to happen wherever their customers may be? What causes the mobile commerce gap and what solutions will fill the gap?
Enter the rise of mobile payment solutions, a highly sought after online shopping advancement, which enables quicker, easier mobile shopping checkouts. The usual suspects enter the room and stand tall – Apple, Google, Amazon, Paypal.
Each internet giant has their own mobile payments solution. It may be difficult to choose between these solution as the default user experience and payment infrastructure is almost identical.
One of the many issues here is having too many options at the mobile checkout. Some platforms, like Spotify, are seeking to simplify the mobile shopping options by dynamically populating the user's personal preference, or last used mobile payment platform.
There are several weighty questions to grapple with as a small, medium or enterprise level e-commerce company. Is your shopping cart custom built? Is it part of an ERP? Are you on an old e-commerce platform, and wanting to make a shift to Shopify or BigCommerce?
What is the path to least resistance to incorporate mobile payment solutions?
So many questions, so little time, and yet finding the right solutions goes back to a simple strategy, which is to provide multiple paths to the same goal and find your customers where they want to engage with your brand and your products. Having a mindset of continuous experimentation and optimization is how we find the channels that work best for our store and our customers.
While the rise of mobile payment solutions will certainly increase conversion rates on mobile sites and within mobile apps, the set of behaviors and circumstances of mobile use has many impediments to a brand's share of voice and mobile revenue. Fragmentation of mobile user's attention, diversity of time and place of usage, not to mention that multi-tasking and mobile go hand in hand. Mobile payment solutions do not solve any of these problems directly.
It may take some time for new solutions, marketing channels and innovations to fully close the mobile commerce gap. The large platforms are all seeking to become mobile financial platforms, yet they each seem to be missing some part of the pie.
What other innovations will fill the gap? Mobile payment solutions on their own won't quite do it.
Read more about Textual's Shop by Text solution to the Mobile Commerce Gap and Mobile Payments.
Data Source: ComScore Media Metric Multi-Platform and e-Commerce